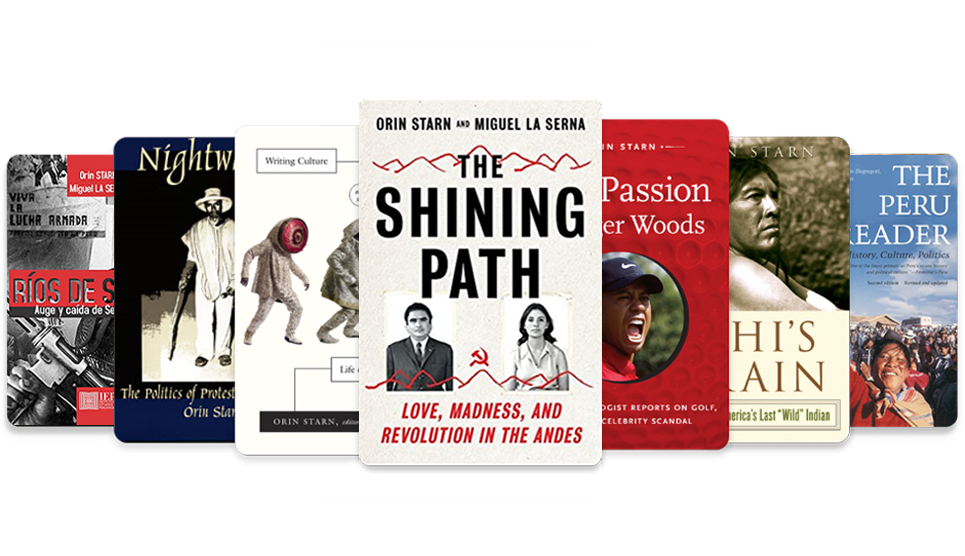 Join the popular online class "Sports and Society" on Coursera with Orin Starn. More than 40,000 students worldwide have already enrolled.
"I truly enjoyed your lectures and course. One of the most entertaining courses I've ever taken"
Kevin Young
Olympic Gold Medalist
and Former World Record Holder
RÍOS DE SANGRE. AUGE Y CAÍDA DE SENDERO LUMINOSO, por Orin Starn y Miguel La Serna, nuevo en 2021
Ríos de sangre es el relato cautivante del surgimiento y caída de Sendero Luminoso. Basados en nuevas fuentes documentales, extensas entrevistas y décadas de investigación, Starn y La Serna muestran a sus lectores el núcleo mismo de la brutal guerra de Sendero Luminoso, y los valientes esfuerzos de mujeres y hombres que le salieron al paso. El libro de Starn y La Serna cuenta historias poco conocidas de los Andes y las barriadas limeñas, al mismo tiempo que ofrece una nueva mirada sobre personajes prominentes como María Elena Moyano y Mario Vargas Llosa. Ríos de sangre es una narración apasionante, pletórica de drama y emoción, al mismo tiempo que un convincente trabajo de investigación que arroja nuevas luces sobre un conflicto armado cuyo doloroso legado sigue obsesionando al Perú actual.
"Una exhaustiva investigación que permite conocer la vida íntima de quienes protaganizaron el conflicto"
–Marisol de la Cadena
"Escrita con una pluma ágil e infinidades de fuente primarias"
–Carmen McEvoy, El Comercio
"Acaso el mejor libro sobre la historia de Sendero Luminoso?"
–Jherson Rubén García Danós, Gatolector